Monday, March 24, 2008
On Friday night, headed over to the Landmark Sunshine theater to see the theatrical release of Amy Lo's long-tended film,
Planet B-Boy
. There was a long line-up to get in to the show, and the crowd, a mix of NYC hipsters, East Asians (and the NYC hipsters who love them) and young and aging hip hop heads (and me), was buzzing. The wait was worth it.
Surveying global b-boy culture, while providing a quick context for b-boy's emergence as one of the four elements of hip hip culture,
Planet B-Boy
tracks the emergence of five elite B-boy teams from Korea, Japan, the US, and France, demonstrating the range of b-boy styles represented and evolved by different youth cultures world wide, and the surprisingly common, and touching, themes that track many of the young men as they strive for the grand prize of being named world champion at the Battle of the Year.
In line with recent documentaries, the film mixes sweet and engaging human interest stories with a perspective on an emerging global culture around b-boying that has far outgrown its roots in the Bronx, while still being true to the ethics and aesthetics of hip hop. Cheeky visual references, like an homage to the classic scene in
Flashdance
, transported to Japan, and a wealth of fucking incredible dancing make the film well worth a look-see.
Check it out, when it hits a city near you (and if you don't support it, the run threatens to be limited... so help out the good people who made this movie by turning up!). See the
website
for screenings in your neighborhood, or go to one of these screenings:
3/21 New York, NY - LANDMARK SUNSHINE
3/21 Los Angeles, CA - LANDMARK NUART
3/28 San Francisco, CA - LANDMARK LUMIERE
3/28 Berkeley, CA - LANDMARK SHATTUCK
3/28 San Diego, CA - LANDMARK KEN
3/28 Irvine, CA - EDWARDS UNIVERSITY TOWN CENTER 6
3/28 Washington, DC - LANDMARK E STREET THEATRE
4/04 or 4/11 Austin, TX - LANDMARK DOBIE
4/04 Boston, MA - LANDMARK KENDALL SQUARE
4/04 Chicago, IL - LANDMARK CENTURY CENTER CINEMA
4/04 Phoenix, AZ - HARKINS VALLEY ART
4/11 Denver, CO - LANDMARK MAYAN THEATRE
4/11 Minneapolis, MN - LANDMARK LAGOON
4/18 Philadelphia, PA - LANDMARK RITZ @ THE BOURSE
4/18 Portland, OR - REGAL FOX TOWER STADIUM 10
4/25 Atlanta, GA - LANDMARK MIDTOWN ART
4/25 Seattle, WA - LANDMARK VARSITY THEATRE
5/02 St. Louis, MO - LANDMARK TIVOLI
And check out Japan's 2nd place team at the 2006 competition, Ichigeki:
It's like a crunked up Busby Berkeley. I love it.
Posted by

Professor Atish
at 7:30 PM
2 comments:
Links to this post


Thursday, March 20, 2008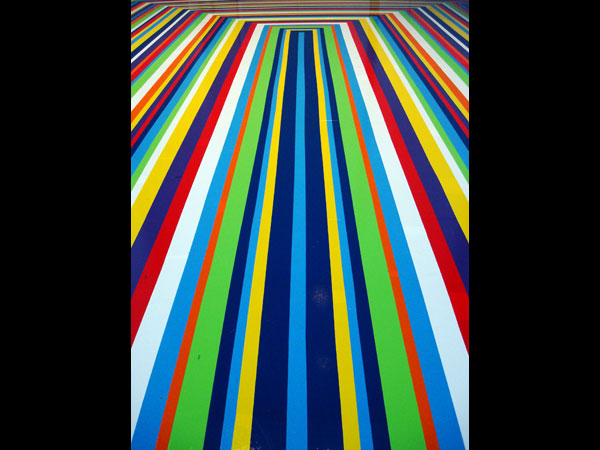 Yeah, I like colors. Yeah, I like patterns. I guess I've got to make a trip up to
the MoMA...

Posted by

Professor Atish
at 3:56 PM
3 comments:
Links to this post